My day started off at 3 am with an angry, demanding alarm clock and some snuggling with my man. I wrote about it here in this
post.
After my husband left for work, I poured myself a cup of coffee and curled up in a cozy chair with a luxurious throw I just bought for half price at Restoration Hardware. I sat in the darkness and spent some time talking to Jesus and listened to a beautiful song by Jason Upton, "Psalm 23," that melts my cares away and draws me to the feet of Christ. You can listen to it
here
, if you'd like.
I watched the sun come up over suburbia and then began to prepare breakfast for my kids and pack their lunches. I took them to school and as I drove, I said a prayer for my daughter who was taking a difficult Math quiz today. When I got home, I forced myself to clean house. I really wanted to settle back into the cozy chair, snuggle with the new throw and read, but I gave myself a pep talk and told myself to clean for a bit. I put Earth, Wind, and Fire's Greatest Hits on and blasted it through the house for motivation. It's hard to keep a house clean when you know it won't be yours much longer because really, "after the love is gone, what used to be right is wrong." (I couldn't resist.)
After I finished most of the cleaning, (why do today what you can put off until tomorrow?) I sat down to catch up on my blog reading and do a little writing. I also curled up with a delightful new book I'm reading called, "Sparkly Green Earrings," by Melanie Shankle. I've been following her blog, "Big Mama," for several years and this is her first book... a relatable and charming memoir about motherhood.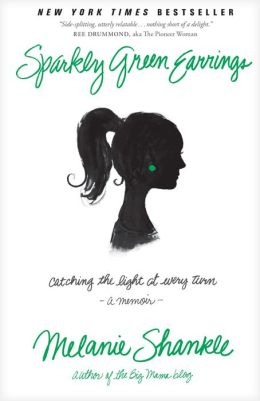 And of course, since I'd been up since 3 am, I fell asleep while reading and took a refreshing little nap and when I woke up, I realized I had just enough time to jump on the treadmill and squeeze in a workout and shower before my kids got home from school. While I worked out, I listened to one of my current favorites, "Girl on Fire" by Alicia Keys, and I ran faster than I normally do because lyrics like,
"Looks like a girl, but she's a flame. So bright, she can burn your eyes, better look the other way. You can try but you'll never forget her name. She's on top of the world, hottest of the hottest girls,"
set this girl's feet afire. It's an awesome song and the video doesn't disappoint. I wish I could snap my fingers and clean house like Alicia does and to look like her while doing so would be nice too. If you'd like to take a peek,
here it is.
The rest of my day was spent hanging out with my kids after they got home from school, writing a bit more, folding some laundry, making breakfast for dinner, and running my daughter to and from her women's ensemble group at school. I quizzed my son on World War II history for a test he has tomorrow even though he told me he didn't really need to study or be quizzed since he's been learning about World War II since he was seven and he's seen the Band of Brothers series. He may or may not have a point there.
As the day came to a close, we gathered together in our room and the kids fought over whose turn it was to snuggle with us in our bed, and we laughed through an episode of "The Big Bang Theory". Oh how we adore that quirky, nerdy, laugh-out-loud show even though we have to censor it quite a bit for our kids.
It was a wonderful day with a lot of life lived.
This post is part of an on-going series on what my life looks like in a day. It's a journal and memoir of sorts... a way to record and remember my days... what it looks like to "be and keep being".