It was a beautiful yet chilly Thanksgiving day in Washington, DC. We had just left a somewhat upscale restaurant in the district where we lingered over a traditional Thanksgiving dinner, savoring each delicious bite. As we sat at an intersection waiting for the light to turn, he approached our car all disheveled and dirty wearing mismatched and torn clothes, layer upon layer, to keep himself warm. He carried a tattered and torn cardboard sign asking for help and he held close an old cup in which to collect any spare change he might be given.
I don't normally roll down my window and give money to the homeless since I wonder if they might use it for drugs and alcohol instead of for food or other things they may truly need. Though I know this may not always be the case, it does concern me. But this day, this time, was different and we all felt the tug on our hearts to give to the man. As he walked past, I rolled down my window and put three dollars in his cup. Maybe that would be enough to buy a small burger or a hot cup of coffee, but not near enough to get him into any trouble. I smiled at him and wished him a Happy Thanksgiving and told him to stay warm. He smiled back and with what seemed like genuine gratitude said, "Oh I will. Thank you, ma'am. God bless you."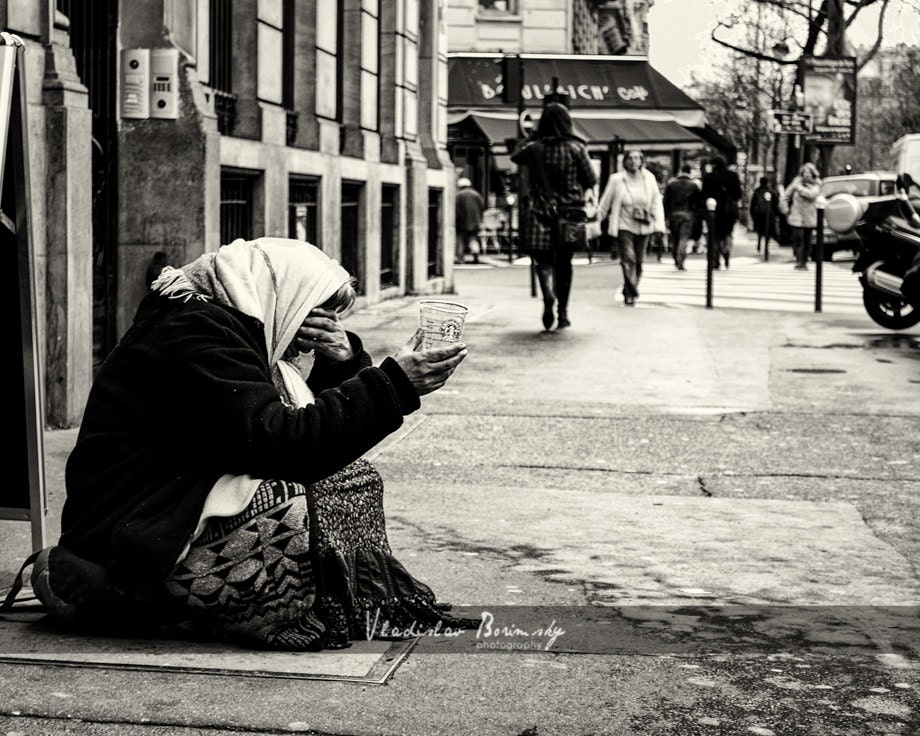 Many times throughout the scriptures, Jesus tells us that we will always have the poor with us and how very right he was. Every time we drive into the city and sometimes even in the suburbs where we live, I see them all around. The homeless and destitute. I feel compassion for them and wonder at their story. How did they become so impoverished? What chain of events brought them to this place? Where do they live or stay? How do they survive? I wonder at their journey and at what life must be like for them.
By the sheer grace of God, I have never been penniless or homeless and I can't, even for a moment, understand that plight. I've never lived on the streets or been without a home, or slept on a park bench and wondered where my next meal would come from. I've never had to dig through trashcans to look for tossed scraps of food, or hold out a cup to beg for spare change.
But in some ways, I am not completely unlike them. I, too, am the poor.
Photo source: www.123rf.com
Though I've been incredibly blessed materially and I have everything I need and then some, spiritually, I am hungry and thirsty and impoverished without God.
My cup runs empty and bone dry and I know that only the life of Jesus can fill it. I am poor in spirit, desperate and needy, and in recognizing my great poverty, I am all the more aware of my even greater need for Jesus. Jesus said, "I am the bread of life. Whoever comes to me will never go hungry, and whoever believes in me will never be thirsty." (John 6:35) He satisfies my hunger and quenches my thirst and provides for me time and time again. He gives strength and joy and hope and healing. Love and mercy, forgiveness and power. Over and over. Grace upon grace.
May I never stop falling on my knees and holding out my cup.
May I always be the poor.


"The deeper we grow in the Spirit of Jesus Christ, the poorer we become - the more we realize that everything in life is a gift. The tenor of our lives becomes one of humble and joyful thanksgiving. Awareness of our poverty and ineptitude causes us to rejoice in the gift of being called out of darkness into wondrous light and translated into the kingdom of God's beloved Son."
~Brennan Manning


"Blessed are the poor in spirit, for theirs is the kingdom of heaven."
~Matthew 5:3
"For he satisfies the thirsty and fills the hungry with good things."
~Psalm 107:9

"Blessed are those who hunger and thirst for righteousness, for they will be filled."
~Matthew 5:6
(I'm linking up today with Emily at chattingatthesky.com for Tuesdays Unwrapped… choosing a gift from an ordinary day and finding the miracle secret it holds.)
*My apologies for the blurry images. Quality pictures were hard to find.